Larinite
A downloadable game for Windows, macOS, and Linux
The game is now 3D (not pixel art) and multiplayer and the first release will be almost nothing like the demo. I'll have to return back to this single-player stuff later.
About the single-player demo of Larinite (outdated):

Expected core features of the game:

An epic and refined story. Aimed to be entirely skippable.
There is a main quest, but you can choose when you want to move in and out of different parts of it. Discussions and quests for each of the notable characters in the game are optional. Each have their own stories and histories. Most currently have professions.
An original 2D pixel art magical and futuristic open world.
Explore new areas in the world of Larinite. Each is handcrafted and often not repeated, or procedurally generated. There is a day and night cycle where certain enemies and creatures will be available only at certain times. Bosses may be found in different areas.
Make choices in the game that matter.
The quests that you take part in influence the relationship between you and NPCs. There will also be options during dialogue with bosses. The choices you make at those points are significant and determine your character. Choose wisely, or load the game and retry again- the atmosphere and setting of the world around you is your choice in the end.
Smooth 2D top down action RPG gameplay, even though the game is not only about combat.
Customize your combat set up and then go into battles against enemies, or pick some other way to get around them. Boss fights will be significantly tougher than regular battles. You won't need to engage in combat to have fun in this game. The main story however, involves different bosses. Skills and magic are crafted using language pieces. You can choose to not use this method and rely on equipment drops (no crafting) or crafting equipment.
Many skills to learn:
- Fishing:
You can currently do a bit of river/freshwater fishing. In the future, you will be able to customize your fishing tackle and use other items which are needed to catch different types of aquatic creatures.
- Woodworking:
Craft wooden items so you can sell them to earn coins, or use them to decorate your home in the future.
- Cooking:
Cook more complicated dishes after gathering basic edible items. Food is used to regenerate health, and to tame and satisfy creatures.
- Metalworking/Mining:
Craft weapons, armor and other metallic items, so you can use them in battle, or for crafting wooden items.
- Hunter:
Tracks enemy defeats. Offers you added advantages once you get achievements. For example, after you have hunted down 100 of a specific enemy you deal 5% more damage to them. Gives access to some enemy skills in the combat skill tree.
The full list of skill groups is shown below: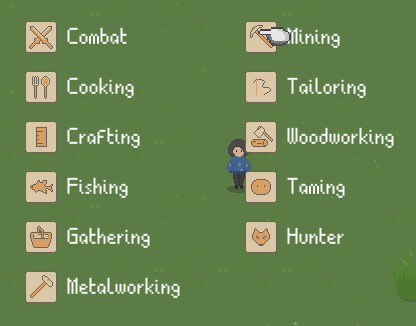 Cool music.
Music in the game is relevant and tailored to suit the related part of the story that it plays in. Some of the core songs have already gone through several iterations. A select amount of instruments have been used to ensure that there is focus.
Many Options for Game Controls
Option to play entirely with mouse and keyboard OR keyboard-only OR with a controller (a single Joy-Con on PC is being used for testing).
Notes:
https://larinite.com/ has links to old devlogs. Patreon probably holds the oldest published content (since 2018).
https://twitter.com/LariniteGame also holds the latest posts for now, but this might change (again...).

Updates (June 2021):
- There is no music yet for the demo!
- I made a lot of improvements to the story in May, so the current content in the demo is much less than what I had planned originally but it will be updated more in late June onwards.
- There could still be many bugs in this demo and there are still many updates before the game reaches an alpha stage, a beta stage and then final release.
- Assume that your saved games will be deleted each time the game is updated. Autosave is not enabled yet.
- Combat Stats, Attributes and elements and other skills probably out in July or August 2021.
Linux: 1) Install itch.io app: https://itch.io/docs/itch/installing/linux/ 2) Install the game on the itch.io app and launch the "Larinite ... .x86_64" file. I've only tested on Ubuntu 20.04.2 LTS. If your screen is too small to take the ideal Windowed mode (1280x768): set up Fullscreen mode for Ubuntu using shortcut keys, then make it Fullscreen using the Larinite in-game setting and then use the Ubuntu shortcut keys to make it Fullscreen. Then, take it out of Fullscreen mode using the Ubuntu shortcut keys, and then resize the window by double clicking on the game's title bar a few times.
| | |
| --- | --- |
| Status | In development |
| Platforms | Windows, macOS, Linux |
| Author | wlwl2 |
| Genre | Role Playing |
| Made with | Unity, Aseprite |
| Tags | Action RPG, Crafting, Hack and Slash, Meaningful Choices, Retro, Story Rich, Top down shooter |
| Code license | MIT License |
| Asset license | Creative Commons Attribution v4.0 International |
| Average session | A few seconds |
| Languages | English |
| Inputs | Keyboard, Mouse, Joy-Con |
| Links | Homepage, Twitter |
Download
Click download now to get access to the following files:
larinite-windows.zip
27 MB